In the good ol' US of A, the countdown to Banned Books Week (BBW) has begun. BBW begins on September 24th of this year, and plans are being put into motion at many libraries in North America to prepare for both the celebration of the freedom to read as well as the inevitable contestations by conservative political and religious groups. In case you are reading this and don't know much about Banned Books Week, here is a brief explanation from the American Library Association website:
Banned Books Week (BBW) is an annual event celebrating the freedom to read and the importance of the First Amendment. Held during the last week of September, Banned Books Week highlights the benefits of free and open access to information while drawing attention to the harms of censorship by spotlighting actual or attempted bannings of books across the United States.
In preparation for this even each year, Robert P. Doyle, in cooperation with a number of pro-freedom-to-read groups, puts out a publication highlighting some of the more visible and notable book challenges. The publication,
Books Challenged or Banned,
comes out every year in the summer and is available through the ALA's website. The 2010-2011 edition has recently been published, and as I did last year, I will be posting snippets each week (hopefully more than one if I'm not over-run with work) to highlight some of the more unusual or more public cases.
To start this cycle off, I bring you the case of
Revolutionary Voices: A Multicultural Queer Youth Anthology
(Amy Sonnie, ed.)
Revolutionary Voices: A Multicultural Queer Youth Anthology
(Alyson Books)
Banned by the Rancocas Valley Board of Education from the Mount Holly, N.J. High School library shelves (2010) after a local conservative group expressed concern that the book was too graphic and obscene. The local group, part of the 9/12 Project, a nationwide government watchdog network launched by the talk-radio and television personality Glenn Beck, called for the banning of three books, all dealing with teenage sexuality and issues of homosexuality.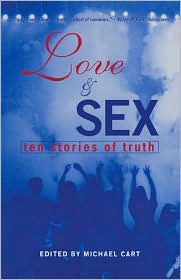 The two other titles challenged, but retained were:
Love and Sex: Ten Stories of Truth
edited by Michael Cart, and
The Full Spectrum: A New Generation of Writing about Gay, Lesbian, Bisexual, Transgender, Questioning, and Other Identities
edited by David Levithan and Billy Merrell. Removed from the Burlington County, N.J. public library (2010) after a member of Glenn Beck's 9/12 Project complained about Sonnie's book. Named as one of the best adult books for high school students by School Library Journal in 2001, the book was called "pervasively vulgar, obscene, and inappropriate."
Source: July 2010, pp. 154–56; Sept. 2010, pp. 199-200.